Fully Interactive House Models of Your Build
Low Cost High Quality Full VR ready House Models!
Using the latest in technology we can build you a realistic 3D virtual model of their new home, office or commercial building to view and walk through using VR goggles, computer or smart device.
Be your own interior designer!
With our new service we can give you the building with kitchen and bathroom suites added and leave the rest for you to furnish yourself wherever you are, on whatever medium you use. Virtual Teic will instruct you through the process and we're sure you will have great fun with it. 
A Virtual Teic model can help you iron out any potential problems you might come across before construction really begins i.e. rooms too small or too big, doors in the wrong place, kitchen should be moved, etc.
Send us your plans now and you can have a high-quality Virtual 3D model of your new home to view always with exterior and interior finish.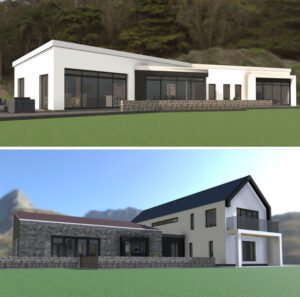 Virtual Reality Exhibitions
You have a 2D website, now have a 3D website!
Sell your work in a Virtual Space literally!
Run a free demo test with us to see how amazing it is. Contact us now and we will set up a small sample gallery or exhibition with your products and art to show you how it works.
Exhibit your work in a futuristic Virtual Showroom, Gallery or exhibition.
Send invitations to people interested in your products, services or art and meet them in person to chat about your work.
Include as much artwork and products as you want and stroll through the gallery together with clients and customers.
Contact us to organise a meeting online in our Virtual Environments and we will show you a free demo exhibition platform you can use or choose a we can create Virtual template of your own.
3D Interactive model viewer
Having worked with your plan specifications, we will email you a link to an interactive, annotated 3D model of your home for you to navigate through as seen here.
This enables you to see your plans as they will look when the house is built. 
You can then make decisions on the design and layout and get back to us with requested changes. We will change the model to your recommendations and upload the fresh model for you to view. Once you're satisfied with the design, we give you plans to take to the architect.
What you get:
An online 3D model for you to view the building interactively. We can provide you with either a base model or with an advanced model. The advanced model includes both interior and exterior views. 
360° High Quality Image on your Mobile Phone or Tablet
You can use your phone or tablet as Virtual Goggles to view 360° of each room in the house in an extremely high quality render.
Simply click the "Gyroscope" button on the image menu and move the phone or tablet around to view the room, use the small white cursor "Hot Spots" or room menu to navigate through the building.
The Complete Virtual Reality Experience
We can instruct and guide you through a Virtual Model as if you are in the actual building you have designed.
The experience is a unique chance to make important decisions on your plans and change them before actual construction.
To use Virtual Reality and give you access to the best tool for informed choices on designing your new build we have four options:
Use one of our Virtual Reality rooms at our base in Gweedore, Donegal.
We can come to you and set up Virtual Reality in the comfort of your own private space.
Building Montages for Planning Permission, etc.
We offer a "building on site" montage service. We build your 3D model from 2D plans and add it to an actual photograph of your site. This can be used for planning applications, advertising, to test angled positioning of the building and also for your own visualisation.